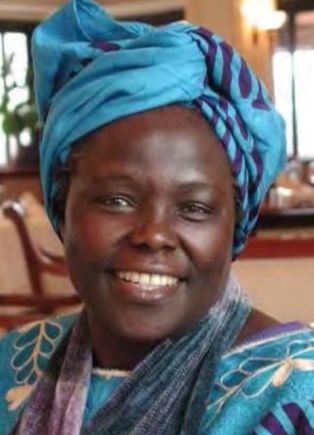 LE 10.07.2023
The woman who planted trees
Marie Frieling
Marie Frieling studied in the Peace, Humanitarian Action and Development Masters program at Sciences Po Lille, specializing in the study of conflict management and development issues.
Born in Nyeri, a rural area of Kenya in 1940, she studied Biology and earned as the first woman in East and Central Africa a doctorate degree. Wangari was promoting the participation of NGOs in the work of the United Nations Environmental Program (UNEP) in Nairobi, working at the board of the Environmental Liaison Center. As a member of the Environmental Commission of the National Council of Women of Kenya, Maathai initiated a reforestation program in 1977, soon known as the Green Belt Movement (GBM).
The Green Belt Movement : planting trees to reach peace
Through community-based tree planting in Kenya, the GBM pursues since then ecological objectives, on the one hand, such as prevention of desertification and rural exodus. On the other hand, the GBM is aiming to improve the economic and social situation of poor women in rural areas. The sustainable production of timber and firewood creates income-generating opportunities and increases the power of women to shape society. 
While Maathai was also active in Kenyan national politics as a member of Kenyan parliament and as assistant minister of environment between 2003 and 2005, she managed to take the highly globally relevant issues of environmental conservation and human rights on a regional and international level, gaining attention for them in international organizations.
Scale change : GBM expansion outside Kenya
As a broad-based grassroots organization, the GBM rapidly expanded throughout Kenya since 1977. With funds from the UN Voluntary Fund for Women, additional employees could be hired and women planting seedlings were paid a small stipend. Within the scope of the third UN Global Women's conference in Nairobi, Maathai presented the GBM in Kenya and achieved a rise in funding, enabling an establishment of the movement outside of Kenya. In 1986, the Pan African Green Belt Movement was founded with funding from UNEP. Maathai met representatives from 15 African countries in the following years to teach them about how to set up similar programs in their countries. Today the GBM is active in 13 countries. By 2011, 51 million trees were planted since the foundation of the movement and 4034 local tree nurseries were set up.
The success of the movement first on a national and regional level gave Maathai the opportunity to spread her ideas on an international level. 
The GBM within multilateral organizations
She received The Nobel Peace Prize in 2004. It was the first time the role of environmental protection for world peace was honored. Even beyond being honored as the first African woman to win this Prize, Maathai received numerous awards, giving the opportunity to make visible an African and female perspective on environmental issues on an international level. 
In 2005 she was elected president of the Economic, Social and Cultural Council of the African Union. This body aims to give civil society organizations a voice within the African Union's institutions and decision-making processes.
In 2006, Maathai assumed co-patronage of UNEP's One Billion Trees Campaign, under which more than 7.4 billion trees had been planted in over 170 countries by 2009.
In 2009 she was named a UN Messenger of Peace with a focus on the environment and climate change. Appointed as a member of the Millenium Development Advocacy Group in 2009, she was part of a group of political leaders and activists aiming to mobilize worldwide support for the achievement of the Millennium Development Goals (MDGs). Wangari Maathai passed away in 2011 after a battle with ovarian cancer.
Activism with a long-term impact
Maathai fought for attention and recognition of climate change impacts on rural regions in East and Central Africa in international and multilateral organizations. We can see those issues taking today primary importance on multilateral negotiations, as the question of climate justice dominated negotiations at COP 26 in November 2021 through the issue of financial support from industrialized countries for countries of the global south particularly affected by climate change. Similarly, Maathai's central topic of the protection of forests is taken more seriously today, as more than 100 states, representing 85 percent of the world's forest area, obliged at COP 26 to stop the destruction of forests.
Wangari Maathai can serve as an example of a civil society activist that initiated actions from a non-governmental perspective in cooperation with international organizations, civil society actors and governmental agencies. 
With the inclusion of economic, ecological and social goals and a participatory, pro-women and democratizing approach, Maathai and the movement she founded stand for a holistic view of sustainable development. For some years now, this has increasingly been at the center of multilateral negotiations and development goals set by international organizations. Especially, of course, with the sustainable development goals of the 2030 Agenda, which recall all the principles essential to Maathai's engagement, such as a sustainable forest management and a combat on desertification (goal 15), the promotion of inclusive societies (goal 16) and gender equality (goal 5).
To conclude, Maathai shaped since the 1970s discourses and buzzwords that are now an essential part of climate debates, are carried forward by civil society organizations, set standards in international organizations, and become a crucial point of discussion in multilateral negotiations.
Pour citer ce document :
Marie Frieling, "Wangari Muta Maathai. The woman who planted trees". Portrait [en ligne], 10.07.2023, https://observatoire-multilateralisme.fr/publications/wangari-muta-maathai/