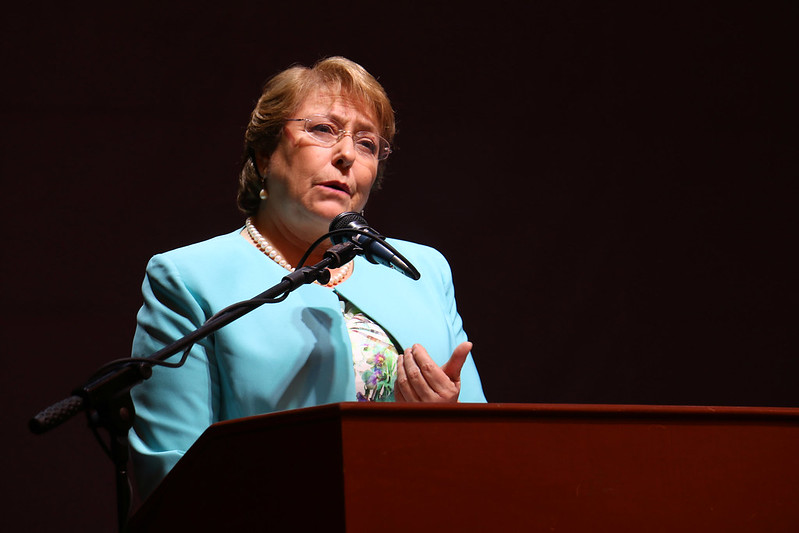 LE 30.10.2023
First woman president of Chile, former UN High Commissioner for Human Rights
Emma LEVY--MAFFEÏS
Emma LEVY–MAFFEÏS is a student in the Peace, Humanitarian Action and Development Masters program at Sciences Po Lille, specializing in the study of conflict management and development issues. 
Her full name is Veronica Michelle Bachelet Jeria and she is a former President of Chile, politician and United Nations High Commissioner for Human Rights.
A decisive experience of torture
Michelle Bachelet was born in 1951 in Santiago de Chile to a military father of French origin and an archaeologist mother. Her father was arrested and tortured in 1973 during General Pinochet's military coup. He died in prison in 1974. That same year, while studying medicine in Santiago, she was arrested, imprisoned, and tortured, along with her mother. She went into exile from Chile to Australia and then to Germany when she was released from prison. Back in Chile a few years later, she continued her medical studies and worked with people who had been tortured. After the fall of Pinochet in 1990, Michelle Bachelet entered politics and quickly became a leading politician: Minister of Health, elected to the Chilean Socialist Party, and Minister of Defense, among others.
From the Chili's presidency to the UN
In 2006, she won the Chilean presidential election under the aegis of the Chilean Socialist Party and became the first woman President of Chile and the sixth female head of state of a Latin American country. She was an example to all women in the country as a woman, mother, and divorcee. The policy applied during her term of office was based on principles of social justice, memory, human rights, women's emancipation, and transparency in political life. Her term of office ended in 2010 and preceded her appointment as UN Deputy Secretary-General for Gender Equality and Women's Empowerment. Michelle Bachelet ran for a second presidential term between 2014 and 2018, followed by her appointment by Antonio Guterres to the Office of the United Nations High Commissioner for Human Rights (OHCHR).
Her fight for human rights
Within the OHCHR, Michelle Bachelet's missions are to address the most severe human rights violations, to focus on the rights of the most vulnerable and those at risk, but also to address civil, cultural, economic, political, and social rights as well as the right to development throughout the world, with a view to international cooperation.
Her personal career is punctuated by a real investment in the fight for human rights and more particularly for victims of torture and enforced disappearances. Within the Office of the High Commissioner for Human Rights of the United Nations, she is notably committed to the right to asylum and against police violence. As a former opponent of the Chilean regime and a victim of severe repression by the Pinochet dictatorship, Michelle Bachelet stands out for her commitment to the plight of opposition activists and members of civil society during political crises, notably in Guinea, Mali and Uganda.
Multilateralism at the service of fundamental rights
Michelle Bachelet is one of the leading figures of multilateralism for her multiple commitments within international organizations such as UN Women, the OHCHR, a consultative group on social protection initiated by the International Labour Organization (ILO) and The World Health Organization (WHO). She also contributed to the Partnership for Maternal, Newborn and Child Health (PMNCH), a collective of several hundred global sexual and reproductive health, maternal, newborn, child, and adolescent health organizations from around the world.
In addition, she has been particularly committed to multilateralism during her presidential terms, including the negotiation of free trade treaties with Asia and Oceania, and her attempts at diplomatic rapprochement with Chile's neighbors Argentina, Bolivia, and Peru.
During the pandemic linked to the spread of COVID-19, which severely affected Chile, Michelle Bachelet stood up for Latin American solidarity regarding the COVID debt in order to limit the socio- economic and health damage of the crisis. She also tried to reduce existing bilateral sanctions between countries of the world in order to facilitate the functioning of health systems, with Russia, Cuba, and Venezuela for example.
Alongside US Vice President Kamala Harris, she spoke at the 65th Commission on the Status of Women to encourage girls and women to take part in public and political life. One of the measures promoted by the OHCHR is parity in political and governmental bodies as a lever for restoring and maintaining democracy and spreading human rights values.
On 24 February 2021, a ministerial meeting of the Alliance for Multilateralism was held, to which ministers from some fifty countries and representatives of international organizations promoting multilateralism were invited, including Michelle Bachelet for the OHCHR. The aim of this meeting was to remind everyone of their commitment to human rights in a world marked by growing inequality, climate change, the digital revolution and urgent health issues.
Thus, Michelle Bachelet is a leading political figure, an actor of multilateralism, noted for her actions against extreme poverty, inequality, and injustice, and for improving the global democratic and civic space. 
The former President of Chile stepped down as High Commissioner in 2022, without standing for re-election. NGOs such as Amnesty International and Human Rights Watch have criticized her trip to China before leaving office, the first by a High Commissioner for Human Rights since 2005. The NGO UN Watch also accused her of turning a blind eye to human rights violations orchestrated by certain dictatorships. 
Her term of office thus ended on a mixed note.
Pour citer ce document :
Emma LEVY--MAFFEÏS, "Michelle Bachelet. First woman president of Chile, former UN High Commissioner for Human Rights". Portrait [en ligne], 30.10.2023, https://observatoire-multilateralisme.fr/publications/michelle-bachelet/