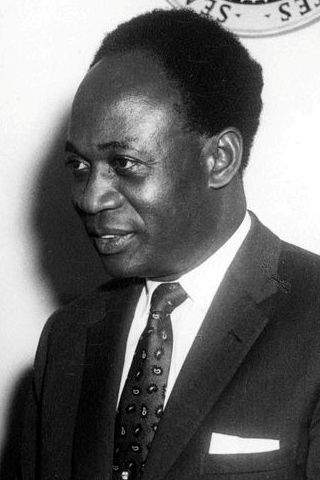 LE 11.09.2023
President of Ghana, one of the founding members of the Organization of African Unity (OAU)
Juliette Gotrand
Juliette Gotrand is a student in the Peace, Humanitarian Action and Development Masters program at Sciences Po Lille, specializing in the study of conflict management and development issues.
"We must unite now or perish", Kwame Nkrumah speech at the founding of the OAU on the 25th of March 1963. 
A Pan-Africanism activist
Kwame Nkrumah was born in 1909 on the then-Gold Coast. He spent ten years in the United States, studying and developing his ideas of Pan-Africanism and Black nationalism. In 1947, he participated in the fifth Pan Congress in Manchester, which represented a turning point towards national independence in Africa. In 1950, with the publication of the pamphlet What I mean by Positive Action, he called on the people to push for self-determination, which challenged the British Empire and led to his imprisonment. 
Nkrumah, with his party the Convention People's Party (CPP), focused on the growth of the cocoa industry to Africanize the country through economic development. His party was highly successful in various elections, which led Nkrumah to force Great Britain to concede independence to what is now Ghana on 6 March 1957. He then became Ghana's first post-independence leader. 
Furthermore, he defended Pan-Africanism and a united Africa. He preached for a "United States of Africa". In 1966, while he was in China, he was overthrown by a coup d'état in Ghana. He died in 1972 of cancer in Bucharest, in Romania. 
Kwame Nkrumah was an important figure for Africa. Indeed, Ghana was the first independent African territory to be freed from colonialism, and Nkrumah embodies the fight for decolonization. He became a symbol of hope, a symbol of African leadership on the Cold War international scene. Moreover, he raised his voice to defend the Third World and his pan-Africanism crossed with socialist ideology. Kwame Nkrumah said, "The freedom and independence of Ghana is meaningless unless it is linked up with the total liberation of the whole of Africa." 
Towards multilateral cooperation for Africa
Through his involvement in the defense of Pan-Africanism and what has been called "Afro-Modernity", he became one of the biggest defenders of multilateralism in Africa. He expressed his ideas in his famous essays Africa Must Unite and African personality, both published in 1963. His ideas were then transformed into action. While he was president, he remapped a foreign policy transcending the primacy of national interest, by hosting in Accra, Ghana's capital, three multilateral continental conferences: 
The Conference of Independent African States in 1957

The All-African People's Conference in 1958 

The Positive Action Conference in 1960
He was the first one to support the newly independent state of Guinea, and he formed a union with it, which was joined by Mali in 1960. Even though it failed, it was the first and unique multilateral attempt between newly independent African States. 
The making of a united Africa
In March 1963, he actively participated in the creation of the Organization of African Union (OAU) in Addis Ababa, a non-aligned movement against colonialism, initially composed of 32 countries. Nkrumah defended federalism against the idea of an "Africa of States" led by the Senegalese president Léopold Sédar Senghor. He envisioned a union government with a coordinated economic, political and military strategy, based on the solidarity of the African common historical strategy. However, his idea of unification was not withheld, and Nkrumah is still seen nowadays as forward-thinking. The organization became a far-reaching structure of African multilateralism, based on the intergovernmental theory and the concept of a pan-African identity, with the creation of specialized institutions and regional economic communities in 1991, and an annual conference of Member States. Although the OAU has been replaced by the African Union (AU) and has never evolved into a supranational entity, Kwame Nkrumah was one of the main characters of the pan-African era. It is still a momentous multilateral attempt in Africa, probably even the most relevant at this scale. 
Undoubtedly, Kwame Nkrumah left a big legacy in Africa. Obviously, he was not the only pan-African at this time, as other big names also endorsed with him the creation of the OAU, such as the Senegalese Léopold Sédar Senghor or and Félix Houphouët-Boigny in Ivory Coast. However, the singularity of Kwame Nkrumah was his faith in unity and his never-say-die attitude. He believed in it, in the power of multilateralism and in the strength of African identity, from the beginning to the end. He is often seen as ahead of his time, and his project was too idealist to be accepted. Nowadays, ideas of a political union in Africa have faded away. And even if his memory is still significant abroad, for the Ghanaian population it is contested. Indeed, his presidency in Ghana had shifted to an authoritarian regime, which could put his balance sheet into perspective. But overall, he remains the figure of a dreamt strong and united Africa. For instance, the Senegalese rapper Didier Awadi has in his album "Présidents d'Afrique" paid tribute to Kwame Nkrumah and plebiscite his ideas, which are for him "more topical than ever".
Pour citer ce document :
Juliette Gotrand, "Kwame Nkrumah. President of Ghana, one of the founding members of the Organization of African Unity (OAU)". Portrait [en ligne], 11.09.2023, https://observatoire-multilateralisme.fr/publications/kwame-nkrumah/